A GUIDE FOR COMMUNICATIONS LEADERS:

Stakeholder Capitalism and ESG
Enterprises thrive best when they engage authentically with all of their stakeholders.
Understanding, engaging and creating value for a company's stakeholders is an emerging business discipline, requiring new management systems that span the entire enterprise and ensure that commitments are integrated into the corporate strategy and lead to tangible results.
And the CCO is and should be at the center of this multi-stakeholder approach.
This is a study guide to help chief communication officers (CCOs) and their teams move up the Progression Path on Advancing Societal Value that was first laid out in the 2019 Page report, The CCO as Pacesetter.
Throughout this guide, we use case-in-point examples to illustrate how Page members' companies have defined and implemented commitments in each of the three areas of societal value or stakeholder capitalism.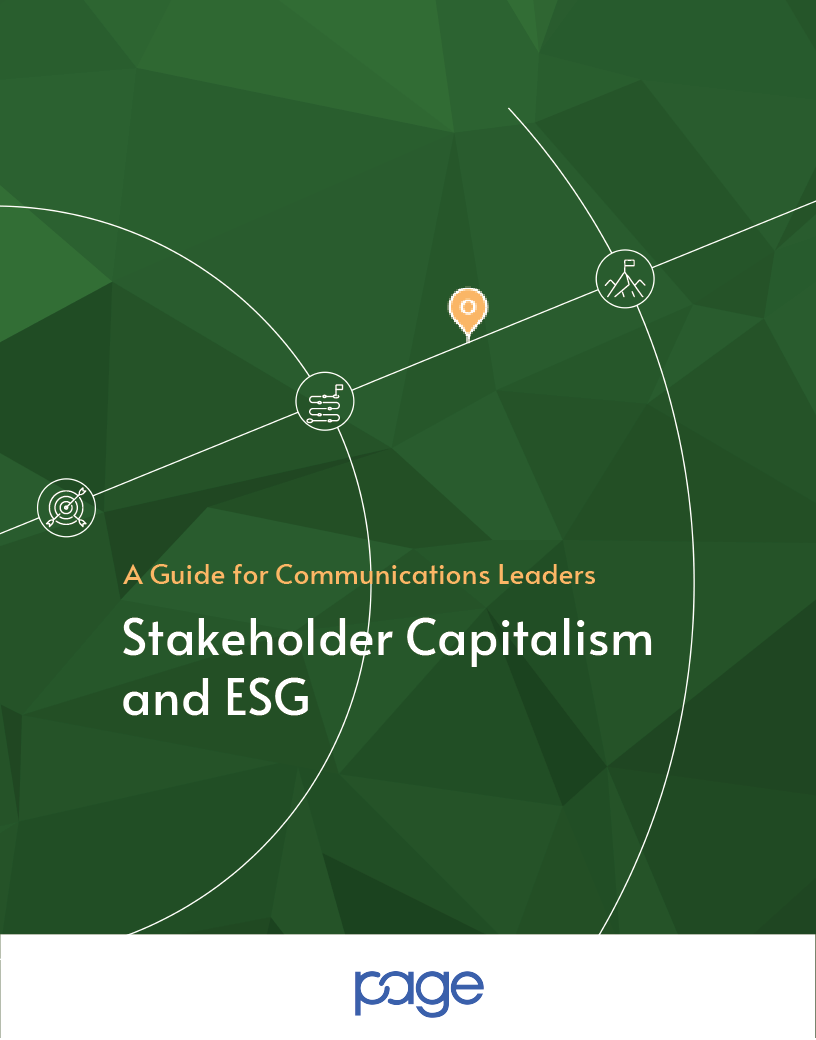 As described in Pacesetter report, the CCO is well positioned to work across the enterprise on corporate brand and corporate culture, in addition to societal value. CCO Guides like this one will be forthcoming in each of those two areas, as well.
For those who want to dig even deeper into these topics, the Page Learning Lab, which can be accessed with affordable subscriptions, is developing coursework in this and the other areas of the Pacesetter report.
Three ways to create
stakeholder value: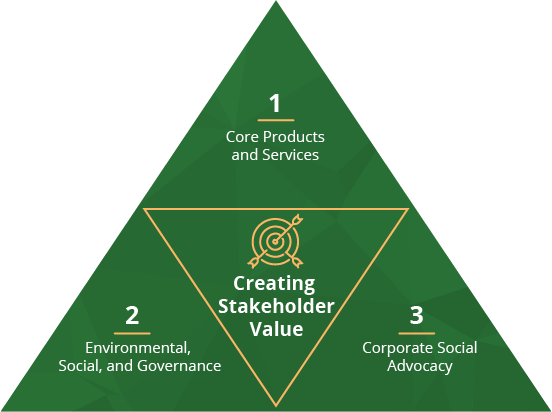 How the company creates value, not just for customers and shareholders, but more broadly for all stakeholders and society at large, through its core business – its products and services. This is about corporate purpose. It's the answer to the question, "Why do we exist?"

Case studies from:




• Aetna


• Mahindra Group
• Novartis


• Royal Philips
The materiality and impact on all stakeholders of the company's environmental, social and governance (ESG) operations, policies and programs. What commitments should the company make to enhance positive long-term impacts (e.g., income security and education for employees, prosperity for communities) and to mitigate negative ones (e.g., climate, environment, human rights violations)?

Case studies from:




• Equinor


• Mahindra Group


• Yum! Brands
Deciding whether the company should take a stand on societal issues that are important to key stakeholders as an expression of values or to advocate on behalf of employees' or other stakeholders' interests. Can corporate social advocacy advance societal value by leading to constructive change?

Case studies from:




• Aetna


• Levi Strauss & Co.


• Southwest Airlines
Page is a global membership organization that brings together the world's leading communications executives to strengthen the enterprise leadership role of the chief communications officer (CCO). Our purpose is rooted in the belief that a strong Communications function results in enterprises that are more responsible, trustworthy and responsive to stakeholders, which in turn helps transform business for the better. Page has nearly 800 members in 25 countries, representing a multitude of industries, leading PR agencies, influential nonprofits and NGOs, and highly respected academicians. We are dedicated to advancing the leadership capabilities of the CCO and the communications profession through thought leadership, learning programs and networking experiences to connect the brightest industry minds to create a better future. For more information, please visit www.page.org.